Steps to Hiring In Home Healt Care Scottsdale Trusts
Realizing that a loved one needs in-home care is a sometimes a sobering realization, but the fact is that many adult children who take on the care of their aging parents, or parents who have children with special needs, or spouses who are responsible for the care of an ill or injured mate, simply cannot handle the responsibilities of everyday life in addition to caring for a loved one. Sometimes, we need a little help.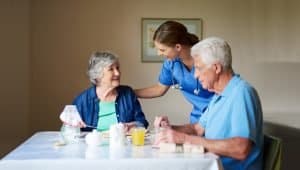 When it comes time to hire someone for the home health care Scottsdale residents trust to help with the care of a loved one, there are several factors to take into consideration. If you live in the Scottsdale area and find yourself in this situation, here are some helpful steps to guide you when looking for affordable home caregivers in Scottsdale, AZ:
There may be some things you can take care of, but sometimes you need a backup. Determine the life services your parent(s) or loved ones need assistance with. Alarys Home Care offers our clients assistance and companionship, as well as round the clock care.
Identify when you need assistance and how often. You may work part-time or full-time, needing assistance during the week, at night, or just on weekends. Determine how many days per week you would like in-home care and during which time-frame (mornings, afternoons, evenings).
Determine your budget. What services can you afford? Will insurance cover certain costs such as agency fees? Will you be receiving assistance from other family members or relatives to help cover the cost of services?
Research home care service companies. Alarys Home Care is one of the premiere caregivers in Arizona. We hire only the most compassionate, well-trained caregivers to provide live-in home services for your loved ones. Our screening process expertly matches top quality caregivers with our clients. When searching for the right home care company, look for:

State licensing
Solid local reputation
Essential services
Affordability
Diligent screening process for caregivers
Skilled, compassionate caregivers
References provided for caregivers
Caregiver credentials
Friendliness of employees and caregivers

Determine loved one's acceptance of assistance with home care that can meet their needs. How comfortable and accepting is your loved one to the idea of having assistance? Are they comfortable with the caregiver you choose?
If you're looking for affordable in home health care Scottsdale area residents require from their caregiver services that will allow you, a family member, or a loved one to live independently at home on a short-term or long-term basis, contact us to see how easy it is to get the right information and gain peace of midn regarding home care. Alarys Home Care's compassionate, qualified, friendly caregivers can take care of all your needs from transportation to normal activities of daily living to caring companionship.
Services Alarys Home Care can provide include:
Cooking and light housecleaning
Laundry and change of bed linens
Grocery shopping and errands
Assistance with bathing, dressing, and grooming
Assistance with walking and transfers
Companionship and social activities
Transportation to doctor appointments, church, supermarket and pharmacy
Don't wait; give us a call today on our 24/7 phone service at (480) 444-7788. At Alarys Home Care, we help make a difficult situation a little easier by offering you support in your caregiving efforts and assistance in improving the overall quality of life for both you and your loved ones by providing the best in affordable home care services in Scottsdale, AZ.